INSIDE IOWA STATE
March 15, 2002
Heritage room shows Iowa veterinary history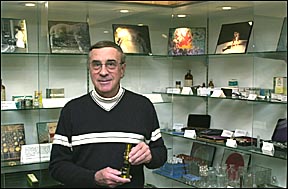 George Beran holds an antique microscope that is on display in the Veterinary Medicine Heritage Room. Also pictured are other items from the collection. Photos by Bob Elbert.

by Teddi Barron
George Beran is looking for a rumen magnet.

To go with the balling gun. He has plenty of catchers and notchers and tongs. And more than a few hooks and scopes. There's a very fine fetotome and two hard-to-find fleems. Even a nose twitch and a mouth gag.

Yet within the dozens of dusty boxes and musty bags filled with hundreds of veterinary artifacts that were contributed to the College of Veterinary Medicine's new heritage room, there was nary a rumen magnet.

It's not surprising, really. There probably aren't many rumen magnets around. When a cow inadvertently ate pasture grass containing pieces of metal, a balling gun was used to insert a rumen magnet into the first chamber of the cow's stomach. The magnet grabbed and held the metal, keeping it from puncturing the stomach, explained Beran, a distinguished professor emeritus and the catalyst-caretaker for the R. Allen Packer Heritage Room.


Everyday efforts
The heritage room is named for Packer, who taught at the college for 34 years and envisioned the veterinary museum long before his death in 1999.

The collection of more than 2,000 artifacts and books chronicles the everyday efforts and extraordinary achievements of Iowa's veterinary practitioners, educators and researchers.

No less extraordinary is Beran's effort in guiding the project through fund raising, design, remodeling, collecting, cataloging and furnishing. By the time the heritage room opened last October, Beran had spent nearly 1,000 hours doing everything from polishing rusty instruments to categorizing books.

What once was an abandoned air handling room is now a museum and center for veterinary historical research, designed not only to preserve a heritage, but also to replenish it through continued study.


Instruments of healing
The six antique microscopes on display, for example, will one day be used by veterinary medicine students and visitors to examine historical tissue slides of extinct diseases. A small brass microscope, crafted in the mid-1700s and still usable, is the oldest item in the collection.

To the uninitiated visitor, many of the instruments -- the 2-foot long stainless steel prongs, pullers and hooks, for example -- look more like tools of a plumber than instruments of a healer.

These inventive devices were conceived to calm wounded animals before tranquilizers existed, or rescue horses in difficult parturition before antibiotics emerged or save milk cows from collapse before calcium injections were even envisioned.

"It's really great to have someone in their 80s who practiced veterinary medicine all his life come in and say: 'Oh! I used this!' It's very interesting to talk to them about the conditions and how they used it," Beran said. "That's the most exciting part of this for me."


First editions
Hundreds of books dating back to the 1820s record the history of diagnosis and control, and in many cases, eradication of specific animal diseases, Beran said. Many are first-edition textbooks written by former ISU veterinary medicine faculty.

"It's so challenging to catalog these books, then put them into the cabinet without reading them," Beran chuckled. "I would love to have time to read them!"

Manual of Examinations and Medical Formulary, 1860 Stock Doctor, 1891 Diseases of the Chest and Air Passages of the Horse, 1853 Homeopathic Veterinary Medicine, 1874 Milk and Its Relation to Public Health, 1908 Meat Inspection, 1900.

"The powers of observation that the veterinarians had then, without laboratory tests, the way they knew the behavior of animals and could spot abnormalities and lesions and diseases so quickly and accurately was amazing," Beran said.


Devastating disease
Among the most unusual and valuable collections in the heritage room is the hog cholera exhibit, Beran said. Syringes, vials and photos tell the story of the conquest of hog cholera and the important role played by ISU veterinarians. By 1879, when Iowa State opened the nation's first veterinary college at a state school, hog cholera was among the most prevalent and devastating diseases threatening the fledgling livestock industry. Although the first case was identified in Ohio in 1833, it wasn't until 1978 that the disease was finally eradicated. Between 1850 and 1950, hog cholera accounted for about 90 percent of all pig deaths.

Until 1905, the best minds in veterinary medicine believed hog cholera was caused by bacteria. Vaccine development and testing carried out by veterinarians from ISU and the new USDA Hog Cholera Research Station in Ames helped establish that the disease was viral. Their live-virus hyperimmune vaccine made historic advances in the control of the disease.




---

Ames, Iowa 50011, (515) 294-4111
Published by: University Relations, online@iastate.edu
Copyright © 1995-2001, Iowa State University. All rights reserved.