INSIDE IOWA STATE
December 14, 2001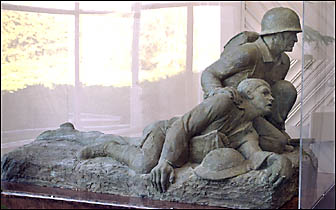 War heroes
Men of Two Wars (1942), by Christian Petersen, was installed in the Harold Pride Lounge, Memorial Union, on Nov. 29. The location was selected because Col. Pride, a former director of the Union, served in the U.S. Army in both World Wars.

The outbreak of World War II inspired Petersen, Iowa State's artist-in-residence, to create a half-size sculpture of two soldiers, one from each World War. He proposed the sculpture as a heroic-size, bronze war memorial, but the project never was commissioned. The Union purchased the painted-plaster sculpture in 1985. Union officials would like to raise funds to have the sculpture cast in bronze. Photo by Bob Elbert.


---

Ames, Iowa 50011, (515) 294-4111
Published by: University Relations, online@iastate.edu
Copyright © 1995-2001, Iowa State University. All rights reserved.