INSIDE IOWA STATE
December 14, 2001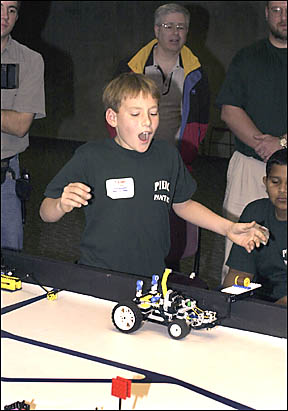 Ahhhhhhhgh!
Trevor Otto, a fifth-grade Panther from Pierce Elementary School, Cedar Rapids, shows his anguish as his LEGOS robotic car stalls during its obstacle course run Dec. 8 in the Howe Hall atrium. The College of Engineering hosted the inaugural Iowa competition of the FIRST LEGO League, in which teams of students between the ages of 9 and 14 build robotic cars and test them on an obstacle course against other school teams. Photo by Bob Elbert.
---

Ames, Iowa 50011, (515) 294-4111
Published by: University Relations, online@iastate.edu
Copyright © 1995-2001, Iowa State University. All rights reserved.