INSIDE IOWA STATE
December 14, 2001
Old-fashioned holiday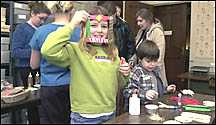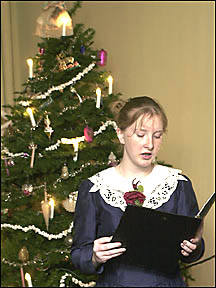 Alesha Smith (above) shows off the frame she made at the Farm House Dec. 2, while her brother Alex (to her left) starts his own frame. Once the frames were made, the children had an opportunity to have their pictures taken by a professional photographer in front of the fireplace or holiday tree. Georgia Chrisinger (left) stands in front of the tree during a performance by the Ames Children's Chamber Choir on the same day. On Dec. 16, visitors will have an opportunity to view Victorian decorations at both the Farm House and The Knoll. The Block and Bridle Club will offer horse-drawn carriage rides from the Farm House beginning at 1 p.m. The event is free. Photos by Bob Elbert.


---

Ames, Iowa 50011, (515) 294-4111
Published by: University Relations, online@iastate.edu
Copyright © 1995-2001, Iowa State University. All rights reserved.