INSIDE IOWA STATE
November 30, 2001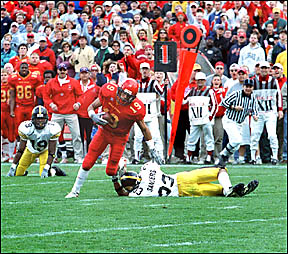 Bowl-bound
Cyclone wide receiver Craig Campbell (19) tries to break free from a Hawkeye defender during Iowa State's 17-14 victory over Iowa Nov. 24. With seven victories on the season, coach Dan McCarney's team is a solid bid for a post-season bowl game; which one remains to be known. Bowl announcements are expected early next week. Photo by Gary Clarke.
---

Ames, Iowa 50011, (515) 294-4111
Published by: University Relations, online@iastate.edu
Copyright © 1995-2001, Iowa State University. All rights reserved.