INSIDE IOWA STATE
November 9, 2001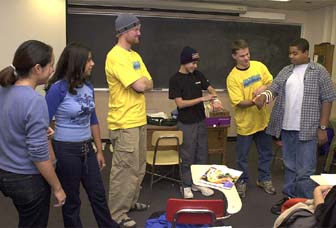 Diving in
About a dozen middle and high school students enrolled in a two-hour workshop on first aid in the wilderness as part of the ISU Secondary Education Club's "Splash" day Oct. 27. About 20 classes were offered, with about 150 central Iowa teens attending. The program is based on a similar program at Stanford University intended to get students thinking about college. Photo by Bob Elbert.
---

Ames, Iowa 50011, (515) 294-4111
Published by: University Relations, online@iastate.edu
Copyright © 1995-2001, Iowa State University. All rights reserved.