INSIDE IOWA STATE
November 9, 2001
She has high hopes for adult learners
by Debra Gibson
I'm not afraid of storms, for I'm learning to sail my ship.
-- Louisa May Alcott, author (1832-88)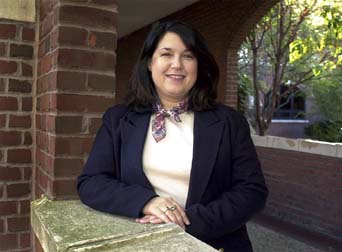 Deborah Kilgore's research looks at the transforming power of education. Photo by Michael Haynes.

For a former economic analyst, the equation is simple: Learning equals hope.

Deborah Kilgore, an assistant professor the past two years in the College of Education, believes in the power of transformation. She has seen how learning can convert the uncertain, how it can "create a hopeful space." And thanks to what could be considered a professional fluke, she saw how learning dramatically altered her own route.

The Washington, D.C., native and Johns Hopkins graduate spent the first several years of her career as a "Beltway Bandit," serving as a consultant to the federal government. In particular, Kilgore specialized in the management of acquisition programs relating to large-scale information systems. When her husband, Richard, enrolled at the University of Texas, Kilgore moved her consulting business to Austin, and also began teaching undergraduate business courses to adult students at the New College of St. Edward's University.

It was there Kilgore witnessed the transformative powers of education.

"For many of these students, this was the first time they had made any intentional decisions about their career goals," Kilgore said. "They had never thought of themselves as 'college material,' but now they were finally seeing themselves as learners."

Kilgore was so inspired by these conversions that she decided to pursue a new educational path herself. She enrolled in a doctoral program at Texas A&M University, with an emphasis in adult learning. Work on her dissertation led her to a Texas women's penitentiary, where Kilgore helped teach inmates about empathy and they showed her the way groups learn.

In particular, Kilgore interviewed women prisoners for their life histories, and then identified (along with other project workers), issues the prisoners had identified as important. Weekly sessions provided information to the women on topics like parenting, drug abuse, violence and repairing relationships.

"Our job was to help them think of themselves differently and solve problems better," Kilgore said. "I soon realized that [the problem] wasn't that their thought processes were broken. They were cognizant of what they had done, and why. They had just never practiced being empathic, or how to feel.

"If you live in an environment that is violent and threatening, you have to be thinking all the time. It wears you out, and there's no time or energy for working on personal relationships. We were there to help create that hopeful space, to show them different, more creative ways to relate to others if they were paroled."

Kilgore observed over time how the women began interacting with one another in group sessions, and offering strategies for problem solving. Her interest in their group learning processes has led her to several other research projects, including:
Cyberspace. Kilgore has used this "community of learning" resource to study a progressive social movement. In particular, Kilgore observed how a social movement, via group learning, organized on the Internet to protest and prevent the censorship vehicle known as the Communications Decency Act. She also delved into cyberspace group learning when studying women poets and how they use the Internet technology to pursue and "discuss" their interests.
Group learning via the Coalition of Justice in the Maquiladoras. This 175-organization coalition serves as watchdogs for assembly factory workers along the U.S.-Mexican border. Kilgore studied how the alliance of labor unions, human rights groups, women's rights organizations and workers' rights organizations banded together and created a massive network of programs and services to protect the factory workers from exploitation.
Professors who have undergone "major perspective transformations" in the way they teach. Kilgore currently is interviewing ISU faculty members about the way they have taught in the past, and how they now are moving toward more collaborative learning methods.
"Being in the College of Education, I was taught how to teach," Kilgore explained. "But lots of professors don't see themselves that way. For some, there may have been a transformation in how they see themselves or the way they teach their students. And I'll also be looking at what hasn't worked.

"This is why I love adult ed," she continued. "Education is such a hopeful place."



---

Ames, Iowa 50011, (515) 294-4111
Published by: University Relations, online@iastate.edu
Copyright © 1995-2001, Iowa State University. All rights reserved.