INSIDE IOWA STATE
October 12, 2001
Lend Me A Tenor opens Oct. 26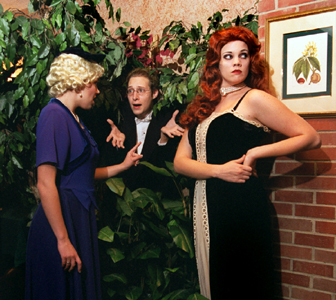 ISU Theatre's Lend Me A Tenor runs Oct. 26 to Nov. 4 in Fisher Theater. Submitted photo.

by Debra Gibson
The scene? 1930s Cleveland.

The dilemma? The Cleveland Grand Opera Company, in an effort to raise funds, has promised its patrons the appearance of a major opera star. Unfortunately, as the curtain prepares to rise, a "Dear John" letter is mistaken for the singer's suicide note, and chaos commences.

Lend Me A Tenor, a comedy written by Ken Ludwig, will debut as the ISU Theatre's second production of the season at 7:30 p.m. Friday, Oct. 26, in Fisher Theater. The play is directed by ISU newcomer Geoffrey Tangeman, temporary assistant professor of theatre, and stars Michael Chemers, temporary assistant professor of music.

Tangeman, who has twice previously directed Lend Me A Tenor, said this piece is among his favorites.

"This is what we all could use right now, a good solid comedy," he said. "It's a truly well-written, hysterical farce."

Other performances are scheduled for Oct. 27, Nov. 1 and Nov. 2 at 7:30 p.m., and Oct. 28 and Nov. 4 at 2 p.m. Tickets are $10 for adults, and $4.50 for students and children, and are available at the Iowa State Center ticket office, or by calling 4-3347.

Lend Me A Tenor replaces Street Scene, scheduled to run Oct. 24 through Nov. 4.




---

Ames, Iowa 50011, (515) 294-4111
Published by: University Relations, online@iastate.edu
Copyright © 1995-2001, Iowa State University. All rights reserved.