INSIDE IOWA STATE
October 12, 2001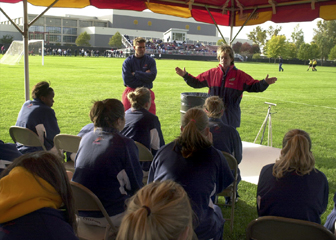 In the locker room
Head soccer coach Stephanie Gabbert gives her team some halftime pointers during the Cyclones' 3-1 loss to Kansas Oct. 5. Gabbert's team is on a southern trip this weekend, playing at Texas A&M Oct. 12 and at Texas Oct. 14. The Cyclones return home Oct. 26, when they host Texas Tech. Photo by Michael Haynes.
---

Ames, Iowa 50011, (515) 294-4111
Published by: University Relations, online@iastate.edu
Copyright © 1995-2001, Iowa State University. All rights reserved.