INSIDE IOWA STATE
September 14, 2001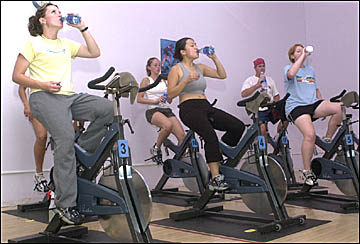 And pedal, and swallow . . .
Members of the Precision Cycling class, a Recreation Services offering this fall, take precision to a new high as they all grab a drink at the same time. The class, which offers cardiovascular training set to motivating music, is led by ISU students. Photo by Bob Elbert.
---

Ames, Iowa 50011, (515) 294-4111
Published by: University Relations, online@iastate.edu
Copyright © 1995-2001, Iowa State University. All rights reserved.