INSIDE IOWA STATE
August 10, 2001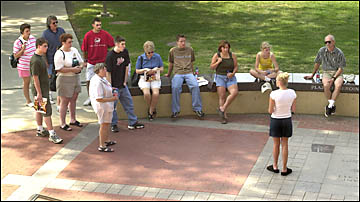 An introduction to Iowa State
Becca Jurgens, a senior in communication studies (with back to camera), pauses outside Catt Hall during a campus tour for prospective students. The admissions office offers daily tours year round for students and other visitors -- at 10 a.m. and 2:10 p.m. Monday through Friday, and 10 a.m. Saturday. Student guides talk about topics such as campus sites, student activities and computer facilities. Last month, 855 visitors, including 331 prospective students, took such a tour.
Photo by Bob Elbert.
---

Ames, Iowa 50011, (515) 294-4111
Published by: University Relations, online@iastate.edu
Copyright © 1995-2001, Iowa State University. All rights reserved.