INSIDE IOWA STATE
August 10, 2001
Original plays highlight ISU Theatre season
An original play by associate professors of theater Jane Cox and Patrick Gouran will be among ISU Theatre's offerings this season. Heroes Among Us is based on interviews Cox and Gouran conducted with World War II veterans.

Another Cox production opens the season Aug. 31. A Longing to Understand is a one-woman play about Barbara McClintock's corn research and life. The play chronicles the obstacles McClintock, one of the great women scientists of the 20th century, endured to win a Nobel Prize in Medicine at age 81 for her discovery of the "jumping gene."

The play will be presented at 7:30 p.m. Friday, Aug. 31, and Saturday, Sept. 1, and at 2 p.m. Sunday, Sept. 2, in Fisher Theater. In September, The Pulitzer Prize-winning play, Crimes of the Heart, will examine the lives of three sisters as they attempt to understand their mother's suicide years earlier.

In October, ISU Theatre will pair with the department of music to present Street Scene. The contemporary opera is set in a New York City tenement on a hot summer day during the Depression.

December will bring Heroes Among Us, which will premiere on the 60th anniversary of the bombing of Pearl Harbor. Also in December, the fifth annual Kwanzaa will be presented as part of the ISU Theatre series. This African-American celebration will feature performances by ISU groups and featured guest artists.

Spring semester, ISU Theatre will present The Matchmaker, Barjche, World Theatre Workshop Presents, Stars over Veishea and other student productions.

Tickets are $10 for adults ($9 for seniors), except for Street Scene ($12.50 for adults, $11.50 for seniors) and World Theatre Workshop Presents ($8 for adults, $7 for seniors). Season tickets are $50 for adults and $45 for seniors. Tickets are on sale at TicketMaster locations and the Iowa State Center box office. For more information, call 4-2624.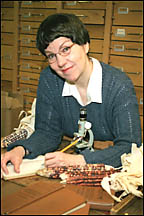 Jane Cox as Barbara McClintock, who won a Nobel Prize in Medicine at age 81 for her discovery of the "jumping gene." Photo by Patrick Gouran.
---

Ames, Iowa 50011, (515) 294-4111
Published by: University Relations, online@iastate.edu
Copyright © 1995-2001, Iowa State University. All rights reserved.