INSIDE IOWA STATE
August 10, 2001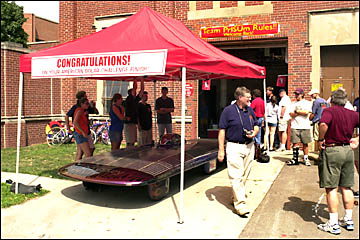 End of the ride
A welcome home celebration for Iowa State's Team PrISUm was held Aug. 1 at the team's garage in Sweeney. The team recently raced its PrISUm Odyssey solar car in the American Solar Challenge, finishing 16th in a field of 30 cars. The car finished the 2,300 mile trip from Chicago to Los Angeles in 92 hours and 39 minutes. Along the way, the team won the Teamwork Award for the second stage of the race (Rolla, Mo., to Barstow, Calif.), an Artistic Design Award for the design and paint job of the car, and a third place award in Engineering Innovation for its use of advanced battery technology. PrISUm Odyssey is the sixth solar car built by Iowa State students.
Photo by Michael Haynes.
---

Ames, Iowa 50011, (515) 294-4111
Published by: University Relations, online@iastate.edu
Copyright © 1995-2001, Iowa State University. All rights reserved.