INSIDE IOWA STATE
July 20, 2001
Reminisce with Iowa State at the fair
by Debra Gibson
It was your barracks, your safe spot, your party place. Nothing on a huge campus identified you better than that cubicle you called home. Years later, you still feel warm about your dorm.

You and 100,000 other Iowa State Fair attendees can rekindle those memories when you visit this year's ISU exhibit at the fair, which runs from Aug. 9 to 19. ISU will use this venue to launch its new all-university celebration, "Challenging Students to Become their Best." Iowa State's main exhibit, located in the northeast corner of the Varied Industries Building, will feature residence hall living, then and now.

"Then" will be represented by a 1960s-era male dorm room, a life-sized replica furnished with vintage accessories. The "now" model will focus on a contemporary women's residence hall room, highlighting the myriad differences in on-campus living in the past 30-plus years. ISU's department of residence staff members are coordinating the construction and interior design of the rooms.

According to Carole Custer, director of university marketing, "This is a great opportunity to show prospective students and parents what residence hall life is really like at Iowa State. And based on what we know about the demographics of State Fair attendees, there will be many late '60s fairgoers who will connect with our exhibit."

The university exhibit also will debut Iowa State's new series of television commercials highlighting ISU students who have "met the challenge." Representatives of the ISU Admissions Office will be on site throughout the 10 days to answer questions. Computers will be linked to the Internet to allow visitors to send ISU virtual postcards, and alumni to check out the online alumni directory.

ISU athletics will be featured throughout the exhibit as well. Student-athletes and coaches will be spotlighted each day. Big 12 basketball championship and Insight.com football bowl game trophies will be on display. Football posters and schedules for football, women's soccer and volleyball will be available, as will the ever-popular Cy tattoos. Fairgoers also may participate in drawings for Cyclone T-shirts and tickets to ISU football games and Iowa State Center events. According to Custer, about 130 ISU faculty and staff will volunteer at the university exhibit during the fair's run.


Houston, this is Iowa State
The College of Agriculture's annual exhibit in the Agriculture Building will focus on ISU's NASA Food Technology Commercial Space Center. The center works to improve food for astronauts and enhance packaging, preparation and storage of food for mass consumers. A highlight of the exhibit will be an authentic spacesuit, on loan from NASA.

WOI Radio and ISU Extension again will share an exhibit in the east corner of the Grandstand. Regular live broadcasts of Talk of Iowa and Midday will originate from the exhibit, and fairgoers can meet on-air personalities and radio staff members.

"Go Ahead and BUG Us" is the theme of this year's Extension exhibit, according to Elaine Edwards, extension communications specialist. Featured will be an insect zoo from the department of entomology, and a focus on native Iowa insects. In addition, a casting of Christian Petersen's "Cornhusker" sculpture will be on display, Edwards said.

ISU Extension will be all over the fair, through thousands of 4-H displays, presentations and animal and horticulture exhibits. High school juniors and seniors showing beef, sheep or swine at the fair may compete for state 4-H "premier exhibitor" scholarships, according to Mary Clancy, 4-H ag program specialist. Scoring for scholarship selection is based on ribbons, showmanship, a written exam, skills assessment and a personal interview. Three scholarships ($500, $750 and $1,250) are awarded in each of the three livestock areas. Brad Skaar, associate professor of animal science, coordinates the program; scholarship funds are provided by the Iowa Farm Bureau and the Iowa Foundation for Agricultural Advancement.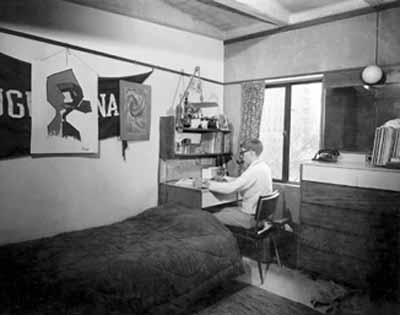 An Iowa State student studies in his Towers dormitory room in the late 1960s. A contemporary female residence hall room and a 1960s-era male room will be part of the university's main exhibit at the 2001 Iowa State Fair, Aug. 9-19. Photo courtesy of University Archives, Parks Library.
---

Ames, Iowa 50011, (515) 294-4111
Published by: University Relations, online@iastate.edu
Copyright © 1995-2001, Iowa State University. All rights reserved.