INSIDE IOWA STATE
June 8, 2001
ABC garden book on sale now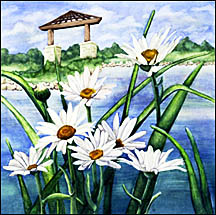 A Child's Garden of Flowers, a colorful new book filled with verse about plants, is being sold at Reiman Gardens and the University Book Store.

It was written by Natalie Knudsen (ag journalism, '92), who came up with the idea for a book after trying to name a flower for each letter in the alphabet. The freelance ag journalist and gardening enthusiast then wrote a verse for each letter, for example,


M is for marigold
Plant it around your garden
to keep the bunnies away.


Knudsen's idea for a book eventually landed with the Reiman Gardens' CoHorts, who secured a $7,000 donation for the project from Harold "Bud" Nichol of Ames. The book was dedicated to Nichol's wife, Joyce Nichol, a Reiman Gardens CoHort.

The illustrations for the project were done by C. Arthur Croyle, associate professor of art and design, and a team of students in the biological pre-medical illustration program.

The book sells for $9.95.




---

Ames, Iowa 50011, (515) 294-4111
Published by: University Relations, online@iastate.edu
Copyright © 1995-2001, Iowa State University. All rights reserved.