INSIDE IOWA STATE
June 8, 2001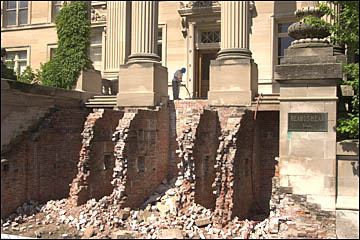 Quick exit
The original (1906) front steps to Beardshear Hall are being replaced as part of the building's remodeling. The brick-and-mortar understructure (pictured) will be replaced by precast concrete supports, and the new steps will be a cast stone, more durable than the limestone of the old steps. Handrails also will be added in early August when the new steps are completed. Photo by Bob Elbert.
---

Ames, Iowa 50011, (515) 294-4111
Published by: University Relations, online@iastate.edu
Copyright © 1995-2001, Iowa State University. All rights reserved.