INSIDE IOWA STATE
May 18, 2001
Special Olympics rely on loyal campus volunteers
by Debra Gibson
As this year's Iowa Special Olympics summer games focus on "Celebrating Our Hidden Treasures," a longtime ISU volunteer continues to shine as one of the event's most valuable assets.

"Dick Doyle is priceless," said Lana Voga, customer service specialist for Printing Services and university chairperson of the games, slated for May 24-26. Doyle oversees buildings and grounds for the Athletic Department and has served the Iowa Special Olympics games as the primary grounds organizer since the event's first year on campus. Under Doyle's hands-on supervision, game fields are prepared, tents are erected, stages are constructed, sound systems are connected and rows upon rows upon rows of chairs and bleachers are arranged for spectators – all while Doyle also carries out his "real job" responsibilities.

While Doyle admits those days are hectic, he can't imagine not being involved.

"I tell you what," he said, "you just don't know how fortunate you are, especially when you see how hard these kids work. We take a lot of stuff for granted – they don't."

"Dick is a great guy," agreed Steph Dohrn, an ISU student-athlete counselor and fellow Special Olympics volunteer. "He has a real soft spot in his heart for this event. If he ever does retire, the rest of us won't know what to do."


Volunteer shifts still open
The Iowa Special Olympics provide sports training and athletic competition to mentally handicapped athletes of all ages. More than 2,500 athletes will participate in this year's event, and more than 1,000 volunteers are needed, according to Voga. Volunteers provide a variety of services, from fielding softballs to escorting participants to award areas. Volunteers work either half- or full-day shifts and need no special training. Interested persons should call the Ames Convention and Visitors Bureau, 232-4032.

Special Olympics events begin at 9 a.m. Thursday, May 24. Opening ceremonies begin at 7:30 p.m. that night at Jack Trice Stadium. Voga encouraged community members to attend these ceremonies.

"This is the athletes' night to shine," she said. "There is no greater reward than to see all these people with special needs come together on the ISU campus. You see that everything about the experience is so pure, and your heart just melts."


Navigating campus
To accommodate the games, Wallace Road on the east side of campus will be closed from Lincoln Way north to parking lot 57 (west side of the Lied Center) from 8 a.m. to 10 p.m. Thursday, and from 7 a.m. to 10 p.m. Friday. CyRide's orange shuttle route will be routed around via Lincoln Way.

The games will affect the following parking lots:
Lot 100, by Lied Center (Thursday, Friday and Saturday). For use by Special Olympics (special permit only). Anyone without one of these permits should park at the ISU Center and take the orange bus route or walk.
Lot 57, by Lied Center (Thursday and Friday). Normal parking (for permit holders) but approach the lot from the north side of campus. Saturday, Special Olympics will use this lot. Special permit required.
Lot 50A, by Forker (Friday only). Lot 50a reserve permit holders should park in Lot 50B.
Lot 3, by Howe Hall and Beyer Hall (Friday only). Lot 3 reserve permit holders should park in any general staff lots or Lot 21 by the Armory. General staff permit holders should find another general staff lot.
All the lots around the Richardson Court Association will be used by Special Olympics.
Iowa Special Olympics, Summer Games 2001
May 24-26
294-0002

Thursday, May 24
9 a.m.-3:30 p.m., Cycling, Iowa State Center parking lot.
9:45 a.m.-3:30 p.m., Roller skating, Skate East, Des Moines.
10:30 a.m.-3:30 p.m., Tennis, Forker courts.
10:30 a.m.-3:30 p.m., Soccer, fields east of Maple-Willow Larch.
1-3:30 p.m., Bocce ball, fields east of Maple-Willow Larch.
1-3:30 p.m., Golf, ISU practice green, Pammel Drive and Bissell Road.
1-3:30 p.m., Race walk, Lied Center.
7:30-9:30 p.m., Opening ceremonies, Jack Trice Stadium.
Friday, May 25
8:30 a.m.-3:30 p.m., Aquatics, Beyer Hall.
9 a.m.-2:30 p.m., Developmental events, Forker Building.
9 a.m.-4:30 p.m., Track and field events, Lied Center.
7-9 p.m., Dance, Hilton.
Saturday, May 26
8:30 a.m.-noon, Track and field events, Lied Center.
Noon, Closing ceremonies, Lied Center.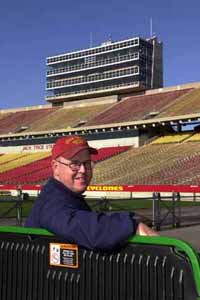 Dick Doyle is a long-time volunteer for the Iowa Summer Special Olympics. Photo by Bob Elbert.
---

Ames, Iowa 50011, (515) 294-4111
Published by: University Relations, online@iastate.edu
Copyright © 1995-2001, Iowa State University. All rights reserved.