INSIDE IOWA STATE
May 18, 2001
Team PrISUm passes first test

by Skip Derra
It was a dry run for Iowa State's solar car team, Team PrISUm, both literally and figuratively, last week. Dry run in that the solar car students had a chance to test their car and themselves under actual race conditions. And dry run in that the event, the Formula Sun in Topeka, Kan., took place over several bright sunny days – an oddity in solar car racing.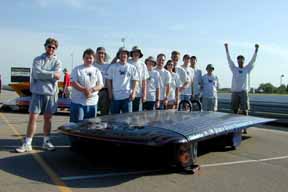 2001 Team PrISUm members celebrate their entry into the American Solar Challenge. Photo by Skip Derra.

Team PrISUm went to Topeka with one goal – to qualify for the larger and much more demanding American Solar Challenge 2001. The ASC 2001 is a Chicago-to-Los Angeles solar car race that will be held July 15-25.

"Formula Sun lets us see how our team can respond to situations that only come up in a race," said Nick Mohr, a senior in mechanical engineering and director of Team PrISUm. "We learned more this week about how we act as a team than in any other activity we have had to date."

The ASC 2001 will present the solar car team with several logistical challenges, not to mention the fact that the race course will be very long.


Boxcar living
ASC 2001 will be a 2,300-mile race to be covered in 11 days – the longest solar car race ever attempted. It will include a much wider range of terrain to cross, from the hills of Missouri to the desert of New Mexico and the mountains of California. It also will feature international teams, as well as the North American universities that commonly competed in past Sunrayce solar car races. Two years ago, the ISU team raced 1,340 miles over nine days in Sunrayce '99. The Sunrayce races had specific starting and finishing points each day. Lodging was simple. Rent a block of rooms at a town closest to your daily finishing point.

ASC 2001 will be less structured. There are two specific ending points for the teams (which could number as many as 60) – Rolla, Mo., on day 2 and Barstow, Calif., on day 10. In between, your home literally will be where you park your solar car.

"This is going to be a very different race for us," Mohr said. "We're trying to do twice as much with a lot fewer resources."

Mohr wanted to see how the team would respond to working and living together in the back of a semi-trailer for six days during Formula Sun. The students liked the idea of having their own mobile dorm, a MASH-type encampment that features loft beds in the back of an athletic department semi-trailer. The amenities also included a 1,650 gallon water tank and a makeshift water shed that specialized in ice-cold showers.

Mohr said the team saved a considerable amount of money in lodging while remaining right next to its car and the track. The semi-trailer also will be the home of the team as it rolls across the United States.

"We won't have tents to tear down and put up," Mohr said. "We won't have to drive out of our way to get to a hotel in the middle of the night. We have it all here and it will follow us wherever we go."


Team PrISUm director Nick Mohr interviews with a film crew from the Odyssey cable channel during Formula Sun. Photo by Skip Derra.


Teamwork pays off
At Topeka, the car cruised through a series of engineering and safety tests. The first day of actual road racing started out well enough. All teams trying to qualify for ASC 2001 had to complete 125 miles (60 laps) with an average speed of 25 miles per hour. About 40 laps in, the ISU car's battery system started losing voltage despite the sunny day. After modifying the battery system, the team had to start over the next day to try to qualify.

The car completed the qualifying 60 laps midway through the afternoon of day two.

Team PrISUm won't know its starting position in ASC 2001 until a second group of cars goes through qualifiers in early July. But to the team, and especially to Mohr, Formula Sun was a success. He said he saw a group of college students going about their business in a professional manner and having fun. For example, Mike Dorman, a senior in computer engineering, set up a satellite communications network so the team could check on weather forecasts, retrieve files from their Ames offices and update their Web page on the car's progress.

"We are hooked up to the satellite and getting weather information before the weathermen," Mohr marveled. "Everybody is doing what they are supposed to be doing. This is great!"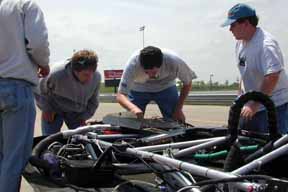 Team PrISUm members check the cars ailing battery system. Photo by Skip Derra.
---

Ames, Iowa 50011, (515) 294-4111
Published by: University Relations, online@iastate.edu
Copyright © 1995-2001, Iowa State University. All rights reserved.