INSIDE IOWA STATE
May 18, 2001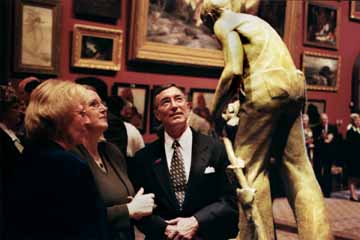 Iowa State entry into the Smithsonian
Mary Petersen, daughter of former Iowa State artist-in-residence Christian Petersen (left); University Museums director Lynette Pohlman (center) and incoming President Gregory Geoffroy eye a bronze casting of Christian Petersen's Cornhusker at a Washington, D.C., gala May 1. The sculpture was donated to the Smithsonian American Art Museum. A second bronze casting of the sculpture was added to the Petersen collection in Iowa State's Brunnier Art Museum April 28 in honor of Interim President Richard Seagrave. Both the original sculpture (painted plaster) and the bronze casting of Cornhusker are on display at the Brunnier through Aug. 11. Photo by Jim Heemstra.
---

Ames, Iowa 50011, (515) 294-4111
Published by: University Relations, online@iastate.edu
Copyright © 1995-2001, Iowa State University. All rights reserved.