INSIDE IOWA STATE
May 18, 2001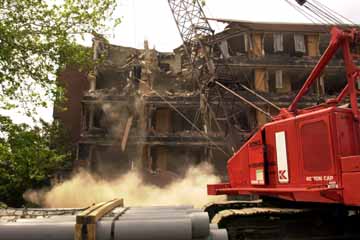 Dusty job
Crews began the job of demolishing the north wing of Helser Hall on May 15. The site is the future location of a multi-purpose community center that is part of the residence department's planned Union Drive neighborhood. Construction of the community center will begin later this summer; construction of the neighborhood's first residence suite building is under way south of State Gym. Photo by Bob Elbert.
---

Ames, Iowa 50011, (515) 294-4111
Published by: University Relations, online@iastate.edu
Copyright © 1995-2001, Iowa State University. All rights reserved.