INSIDE IOWA STATE
April 27, 2001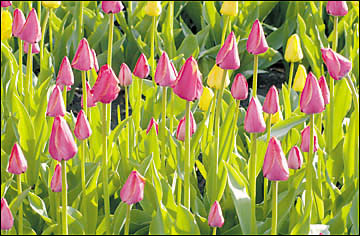 Garden time
With tulips popping and graduation celebrations pending, summer can't be far behind. Reiman Gardens will begin it's summer hours May 1. The gardens will be open 9 a.m. to 4:30 p.m. Monday-Wednesday; 9 a.m. to 8:30 p.m. Thursday-Saturday; and noon to 6 p.m. Sunday. Garden staff will be available during all open hours. Volunteers and staff will answer questions, hand out garden maps and staff the donation box. Suggested donations this summer are $2 (adults) and $1 (children). Photo by Bob Elbert.
---

Ames, Iowa 50011, (515) 294-4111
Published by: University Relations, online@iastate.edu
Copyright © 1995-2001, Iowa State University. All rights reserved.