INSIDE IOWA STATE
April 27, 2001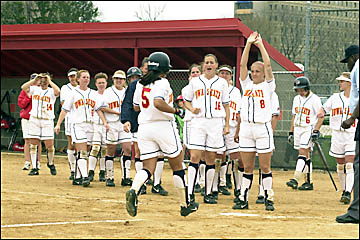 Dinger
Sophomore Erica Martinez (No. 5) is greeted at home plate by her Cyclone teammates after pounding her sixth homerun of the season against Nebraska April 19. The Cyclones will compete in the Big 12 conference tournament May 8-13 in Oklahoma City. Photo by Bob Elbert.
---

Ames, Iowa 50011, (515) 294-4111
Published by: University Relations, online@iastate.edu
Copyright © 1995-2001, Iowa State University. All rights reserved.