INSIDE IOWA STATE
April 27, 2001
He'd like to help
by Anne Krapfl
Norm Hill's world is one of floor polishing pads, mallets, paper towels, laboratory gloves, plumbing parts, plaster of Paris, roof tar, trash liners, lightbulbs, crime scene "caution" tape, toner cartridges, aluminum buckets and safety glasses. Or so it seems.

As manager of Iowa State's Central Stores, Hill oversees the service units that take care of details for most of campus. Out of copier paper? Call Central Stores. Need a door knob? Call Central Stores. Desperately searching for some storage space? Call Central Stores.

But for Hill, who has done this job for the last nine years, it clearly is not about "stuff," but people.

A prominent frame in his office encloses the statement: "Rule #1: If we don't take care of the customer . . . someone else will."

He's relentless about the importance of customer service. It's as much a part of him as fatherhood or riding RAGBRAI or serving -- again -- on the Ogden school board.

"I'm stuck on service," he admits. "I like helping people; it's just the way I am."

He attributes his positive yes-we-can" attitude to his dad, who ran a pizza franchise in his hometown of Moline, Ill. Hill worked for his dad as a high school student and learned that "if we don't do it well, someone else will be doing it." He has never let go of that, through earlier careers building homes in northern Arkansas and managing several farm implement stores in central Iowa.

Hill was hired as manager of Central Stores in 1992. Back then, Central Stores had two divisions -- sales, and services and storage. Central Stores has added other divisions since, but the two originals remain.

"Sales" includes everything from in-stock office furniture to window cleaner and wire cutters. It stocks play sand for the Child Development Lab School, Kerr lids for researchers who use Mason jars. All 6,500 items are in an online catalog at the Central Stores Web site.

Hill describes employees who work in services and storage as "our minutemen."

"They're available for just about anything that's out there," he explained.

They receive, deliver and assemble nearly all the furniture that arrives on campus. Several employees are factory-trained installers. The minutemen move ISU offices and units, permanently or temporarily, for a day while new carpet is installed, or for a year while a building is remodeled.

Services and storage also are those who this spring wrapped all the furnishings in The Knoll and put them into storage while the building is remodeled. They're the ones who packed up and transported the tri-paneled, oversized "ISU Mural" from the Scheman Building to Parks Library at 5:30 one morning, when campus -- and winds -- were quiet. They're the ones who delivered the famous, semi-circle wooden desk to Washington, D.C., when then-President Bill Clinton wanted to use it at another event after being impressed with it during the 1995 National Rural Conference on campus. They're the ones who picked up the "Border Crossing" statue from a St. Louis city park prior to its installation on central campus. And sure, they're the ones who had to have a window removed from the top floor of Science II so they could slide in a 1-ton isolation table -- with assistance from a facilities crane operator, of course.

"My job is to say 'yes,'" Hill said. "That's what we're here for. We know the university culture, we're here and we'll work with anybody."


Central Stores grows
Several other inventory functions have been reassigned under Hill's umbrella during his tenure. Materials stores (formerly FPM Stores) has been part of Central Stores for six years. Its purpose continues to be largely to stock items needed by facilities staff. This storeroom includes motor oil, duct pieces, manholes, PVC piping, sidewalk salt (310 tons passed through this winter), power plant parts; in other words, not your usual Wal-Mart supplies.

Wayne Stensland's retirement in 1998 landed two more functions with Central Stores. Inventory control includes the employees who number, label and track all university-owned equipment and furniture.

And ISU Surplus, formerly known as Asset Recovery, is the group that gathers used equipment, furniture and "stuff" departments opt to discard and tries to find new users for it. To the long-standing Wednesday noon warehouse sale, Hill has added a Tuesday preview sale for departments at Iowa State and other state agencies.

And these days, the Wednesday sale has a new, kinder disposition. Gone is the frantic, pell-mell dash for items when the door opens every week.

"We wrote some rules for the sale so things stay a lot calmer. It's more customer-friendly than it used to be and the number of people who attend the sales is up," Hill said.

On a recent Wednesday, 35 minutes into the sale, more than 150 people had stopped in.

Hill and Mark Ludwig, ISU Surplus coordinator, also dally in "auctioneering," as needed. They auctioned off much of the contents of Exhibit Hall, Engineering Annex and the ERI Lab building before the three structures were razed to make room for Hoover Hall. They have held several bicycle auctions to get rid of abandoned and unclaimed bikes. The next bicycle auction begins at 5 p.m. Tuesday, May 1, on the lawn south of the surplus sale warehouse.

Several years ago, Hill also inherited Iowa State's REAP (Research Equipment Assistance Program), a service that keeps a database of the university's major research and teaching equipment, to encourage shared use whenever possible and control new purchase costs.

If all these parts and lists and inventories seem a little over-whelming, they're not. At least not to Hill, who recalls working with 25,000 line items in his implement dealership days.

"I love my work," he said simply. "We're always looking at ways of doing things better and customer service is always at the top of our goal-setting, but like my dad used to tell me, if we don't do it well, someone else will.

"I hate even to think about that."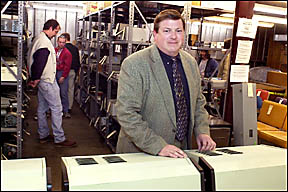 Central Stores manager Norm Hill at the "gentler" Wednesday surplus sale. Photo by Michael Haynes.
---

Ames, Iowa 50011, (515) 294-4111
Published by: University Relations, online@iastate.edu
Copyright © 1995-2001, Iowa State University. All rights reserved.