INSIDE IOWA STATE
April 13, 2001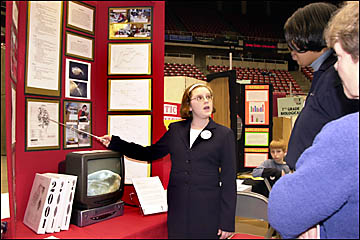 Its showtime
Mauree Gibson of Donnellson, a 7th-grader at Central Lee Middle School, presents her work to a judging team during the 2001 Iowa Science and Technology Fair March 30-31 at Hilton Coliseum. Gibson's efforts earned her one of three prizes awarded to 7th graders in the biological sciences category. Nearly 400 students brought their projects to the science fair this year. Photo by Michael Haynes.
---

Ames, Iowa 50011, (515) 294-4111
Published by: University Relations, online@iastate.edu
Copyright © 1995-2001, Iowa State University. All rights reserved.