INSIDE IOWA STATE
March 30, 2001
On the ball
Behind the scenes, Middleton makes it all run smoothly

by Debra Gibson
Basketball coaches dream of snagging a team player like her.

Her position assignment is clear, and she guards her turf like an all-American, screening and blocking when required. If a strategy doesn't work, she rebounds with the best of them. She avoids traveling. And when confronted with a potential tussle, she has mastered the fake.

Where the ISU women's basketball program is concerned, Connie Middleton scores.

Middleton has served as Coach Bill Fennelly's secretary since October 1998. Though the university's women's basketball program has been in existence for nearly 30 years, Middleton's sign-on to the Hilton-based staff came as the program was entering its recent three-year ascent into the national spotlight. In Middleton's playbook, it wouldn't be March without a trip to the Sweet 16.

But with the hardware and the ESPN accolades come work. Lots of it. And while coaches and players right-fully emerge as public symbols of the program's enterprise and success, little is known about the quiet, reserved secretary whose perch just off the trophy display area is the true hub of basketball operations.

And, quite honestly, she would prefer it that way.

"I'm still an unknown quantity," Middleton says with her trademark giggle, "because people don't know me - well, at least until this article comes out. I can sit at games and hear all kinds of comments about the team and the program. The first year, that was a little harder for me, especially when I'd hear things that I knew weren't true. Now I can just shake my head and say, 'Whatever.'"

Watching the games is one of Middleton's few relaxations within the program. As Fennelly's assistant, she orchestrates the myriad administrative tasks necessary to get teams on the road and recruits in the door. Her works includes relentless booking (and rescheduling) of flight arrangements, managing Fennelly's schedule and finding hosts for prospective players visiting campus. A recent visit to her office found her juggling ticket requests for an upcoming NCAA regional tournament while finalizing that day's practice schedule with her boss.

Because that boss enjoys a high national profile due to his teams' successes, Middleton spends a considerable part of each day fielding calls from the press. The Grundy Center native is herself a former newspaper reporter and a 1975 ISU journalism graduate. Her administrative skills have been honed over several years as a secretary for the State 4-H Office, Extended and Continuing Education and the ISU Foundation.

But as an avid Cyclone sports fan, this latest gig couldn't be more tailor-made.

"When I took the job, I think every person who knew me said, 'Is that not the perfect job for you?'" Middleton remembers. "And it is. I'm definitely a part of the family here. I love working with this staff. And Coach Fennelly couldn't be any better. He's so good about telling everyone how much he appreciates all their hard work."

And what's it like playing den mother to 14 talented, high-energy college women?

"They're a great bunch of young women," Middleton said. "They're all so nice and friendly, and very concerned about others. They hang out here between practices and training table, and there's something about each one I really like."

Middleton is invited to join the team on every road trip, both during the regular season and at tournament time. Though she attends all tournaments, she only occasionally travels with the team the rest of the year.

"I don't want to distract the team or get in the way," she explained. "And besides, I've gone to Kansas the past two years and we've lost. I'm not going there again."

There's certainly plenty to keep her occupied back on campus. Like collecting autographs, for instance - Middleton has secured team and coaches' signatures on T-shirts, ban-ners, basketballs, 3-point signs and even some official Big 12 signage. She fields constant requests for team appearances at children's birthday parties and retirement festivities. And always, there are those civic and community groups who want to add Coach Fennelly to their programs.

The team's celebrity has resulted in residual fallout for Middleton as well.

"You get a lot of new friends in this job," she said with another laugh. "I get a lot more 'Oh, hi, Connie' than I ever used to. And whenever Coach Fennelly mentions during one of his speeches how I might be able to help out fans, the calls are flooding in before he ever makes it back to the office."

But Middleton will be the first to admit she's lucky to be living her hoop dreams. She was buying season tickets long before many current fans even realized ISU women suited up for games, too. And should the day arise when the women's season more closely resembles Cruella than Cinderella, Middleton still will be there to cheer them on.

"I've never been one to plan over the long term," she explained. "I tend to take everything by days and weeks. And yet, I do know this - I sure wouldn't mind ending my career right here."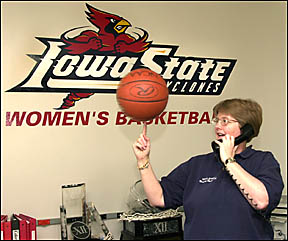 Connie Middleton is living her hoop dream as secretary to women's basketball coach Bill Fennelly. Photo illustration by Bob Elbert and Randy Moore.

---

Ames, Iowa 50011, (515) 294-4111
Published by: University Relations, online@iastate.edu
Copyright © 1995-2001, Iowa State University. All rights reserved.