INSIDE IOWA STATE
February 23, 2001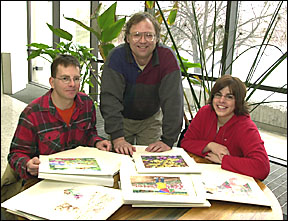 Book illustrators
Arthur Croyle (standing), art and design, enlisted four biological/pre-medical illustration students, including John Smith and Megan O'Dea, to do the artwork for an A to Z children's flower book written by alumna Natalie Knudsen. The book will be printed this spring and sold at the Reiman Gardens; proceeds will help support garden operations. Photo by Bob Elbert.
---

Ames, Iowa 50011, (515) 294-4111
Published by: University Relations, online@iastate.edu
Copyright © 1995-2001, Iowa State University. All rights reserved.