INSIDE IOWA STATE
February 23, 2001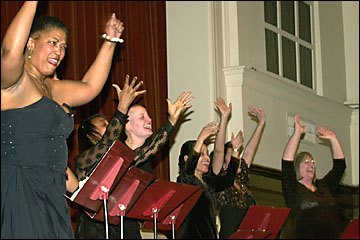 Invigorated
Shirley Dunlap (left), theater, sparks others during a reading from The Vagina Monologues Feb. 15 on campus. ISU women faculty, staff and students took turns reading from the provocative play, written by author Eve Ensler. Ensler wrote the series of monologues after talking to hundreds of women of all ages and ethnicities. Photo by Brandy Hirsch.
---

Ames, Iowa 50011, (515) 294-4111
Published by: University Relations, online@iastate.edu
Copyright © 1995-2001, Iowa State University. All rights reserved.