INSIDE IOWA STATE
February 23, 2001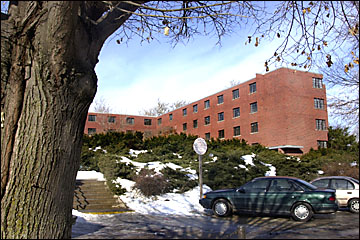 Vacated quarters
During its January meeting, the Board of Regents, State of Iowa, gave permission to the residence department to demolish the north wing of Helser Hall (above) to clear space for a community center that is part of the planned Union Drive neighborhood. Construction on the community center is set to begin this summer. The north wing of Helser Hall is empty this semester, but it won't come down until May. Photo by Bob Elbert.
---

Ames, Iowa 50011, (515) 294-4111
Published by: University Relations, online@iastate.edu
Copyright © 1995-2001, Iowa State University. All rights reserved.