INSIDE IOWA STATE
January 26, 2001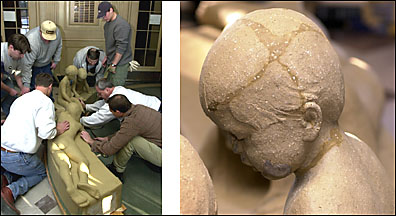 Back home
The "Marriage Ring" was reinstalled in the foyer of MacKay Hall on Jan. 22. The Petersen sculpture was vandalized last September. Francis Miller, with Conservation Technical Associates, Connecticut, began a $36,000 repair job on the sculpture in early January. Repairs included cleaning the entire sculpture, reassembling the broken head of one of the children and putting it back on the sculpture, and repairing cracks. The head (right) is shown before the repairs completely dried and Miller put the final detail work on the sculpture, which included painting the filled areas between the cracks. Photo by Bob Elbert.
---

Ames, Iowa 50011, (515) 294-4111
Published by: University Relations, online@iastate.edu
Copyright © 1995-2001, Iowa State University. All rights reserved.