INSIDE IOWA STATE
January 26, 2001
On the road again, and again
Class travels the grassland for first-hand experience

by Anne Krapfl
Tim Keller calls it the "ultimate learning community."

Three landscape architecture faculty members and 34 second-year students hit the road last fall to study the North American savanna, or grassland. During three, three-week segments, they traveled 10,000 miles from Winnipeg, Canada, to the Gulf coast of Texas. Their stops included wild landscapes, such as Theodore Roosevelt National Park in western North Dakota. It also included very urban settings in places like Chicago, St. Louis and San Antonio.

"It was our feeling our students need to be in the field," said Keller, who leads the landscape architecture department. "It's important to our curriculum and to their experience."

Mira Engler, Gary Hightshoe and Heidi Hohmann led the semester-long program. Each brought components from traditional classroom courses to the required 14-credit, outdoor experience.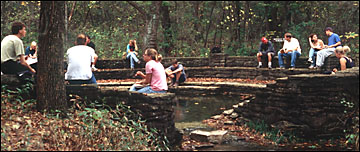 Landscape architecture students soak it all in at Buffalo Springs in the Chickasaw National Recreation Area of southern Oklahoma. Photo by Gary Hightshoe.



The landscape as laboratory
"This was more intense (than traditional classroom experiences) because you're in contact all the time," Hightshoe said. "But that's an opportunity, not a liability."

Hohmann put it a little more strongly.

"Some people thought this sounded like an insane plan. Logistically, moving 34 people around in four vans, yes, that was insane. But pedagogically, it's pretty close to the ideal."

Hightshoe, who has been involved in the half-dozen years or so of developing the traveling studio course, said the savanna was selected because it's an endangered ecosystem, and many Iowa State students are Midwesterners and likely will practice in this region after school.

Engler admitted to being "anxious" about the project prior to leaving Ames the first time, but said she's convinced of its value now.

"Using the landscape as the laboratory, getting away from that insulated classroom environment, is something we shy away from, because of all the unexpected things it presents, but we need to get used to that," she said. "It was a much stronger experience."

And while students had lighter reading loads and ultimately were presented with less material than if the classes had been taught in the design center, Engler said what they studied was more meaningful.

"I'd bet they absorbed 90 percent of the material," Engler said.

Hightshoe said that in their evaluations, students put a high value on the opportunity to see landscapes and specific features, not just read about them or view a slide. He also said land stewardship was an important lesson in the traveling course.

"The landscapes we visited were windows to the past and the future and a window to our profession. Stewardship is important to their future," he said.


24/7 takes a toll
School-on-the-road meant lectures under picnic shelters or in hotel meeting rooms, lots of hours in a van, youth hostels and tent camping, unpredictable (and uncontrollable) weather, occasionally arriving at a landscape to be disappointed in its condition or lack of preservation, and an assortment of squabbles that are inevitable when ambitious people spend 24 hours a day together and feel tired, hungry, hot, overwhelmed, stressed out, restless, cold, homesick, bored or some combination.

Such emotions were anticipated. Ann Gansemer-Topf, academic adviser to the department, who also has worked in university residence settings, was part of the team and organized several training sessions last August on practical things like first aid. And equally practical things such as resolving conflicts, setting reasonable expectations and being honest with, and respectful of, others.

"It basically was the same as taking a residence hall on the road, so there is a lot more to deal with than just academics," she said.

Gansemer-Topf said the faculty really challenged students "in terms of both course content and how they were getting the information and what they were asked to do with it, how they had to turn around and apply it. That takes getting used to."

Hohmann noted that, for some students, "this probably was the job you hate."

"The learning requires a certain level of discipline and it was something you had to get up and do, day in and day out."

As a teacher, though, she now feels she has a solid base from which to continue teaching. "We've given them a lot of coat hooks they can hang stuff on later. I'm looking forward to that," she said.


Next time
"Learning is fun and is supposed to be fun," Engler said. "Sometimes I think our students were so worried about their grades that they were only looking for fun outside of learning. But the fun is in the learning."

Even if it's learning to not set up your tent on low ground.

"There are things we'll reconsider for next year," Hightshoe said. "It's challenging for both students and faculty to be away from loved ones and friends for stretches of time.

"But you do get close. And you work through things, just like you do when you live in a family."

The department is holding several rounds of focus groups with last fall's 34 students to find out what went well and what could be improved, including what preparatory training would be helpful to the next class.

And next fall isn't far away.

"We're committed to this," Keller said. "We think it was a very successful attempt at something of this size.

"There were glitches, but I also picked up on a lot of personal growth when the students presented their project reports. We'll involve them in reviewing and refining this experience."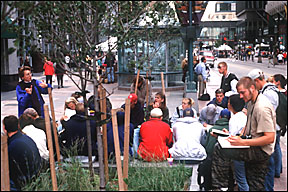 Ignore those bus fumes . . .
Heidi Hohmann (left, standing), landscape architecture, leads a lecture on urban settings from Minneapolis Nicollet Mall last September. Hohmann was one of three faculty members and 34 second-year students who spent nine of 16 weeks on the road fall semester studying North American savannas. The traveling studio course is a requirement in the landscape architecture curriculum. Photo by Gary Hightshoe.
---

Ames, Iowa 50011, (515) 294-4111
Published by: University Relations, online@iastate.edu
Copyright © 1995-2001, Iowa State University. All rights reserved.