INSIDE IOWA STATE
January 26, 2001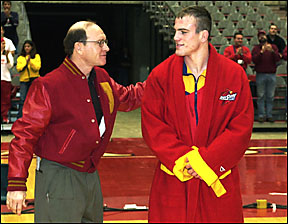 Exclusive club members
Iowa State junior Cael Sanderson (right), who had just scored his 100th college wrestling victory without a loss, is congratulated by former Cyclone and Olympic champion Dan Gable, the only other college wrestler to achieve 100 consecutive victories. Gable won 100 straight matches from 1967 to 1970. Sanderson pinned Hofstras Ralph Everett in their match Jan. 14, helping the No. 4 ISU wrestlers beat No. 19 Hofstra 32-10 at Hilton. The pin was the 32nd of Sandersons career and his 10th this season. Sanderson, a two-time NCAA champion, was selected the Most Outstanding Wrestler at both the 1999 and 2000 NCAA Championships. The Cyclones all-time winningest wrestler is Mike Land with 150 career victories from 1975 to 1979. Photo by Mike Haynes.
---

Ames, Iowa 50011, (515) 294-4111
Published by: University Relations, online@iastate.edu
Copyright © 1995-2001, Iowa State University. All rights reserved.